Philip D. Falch, DVM - Owner
Dr. Philip D. Falch is a General Mixed Animal Practitioner who has been with the Veterinary Clinic of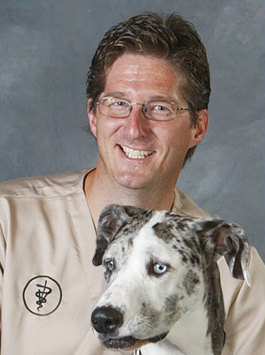 the Mineral Area since 2010.

Originally from Desoto, Missouri, Dr. Falch says that from a young age he has wanted to work in a career that allowed him to help people living in rural areas care for their animals and help them make a living farming. Now that he is a veterinarian, he says, "I love nothing more than driving home in my Ford pickup covered in muck knowing that I've helped my clients solve problems and keep their pets and livestock healthy."

For his undergraduate studies, Dr. Falch attended Jefferson College in Hillsboro, Missouri, and then the University of Missouri – Columbia College of Agriculture where he studied Animal Science. During his time in college he received admission to the Honor Society of Agriculture. After receiving early admission, he enrolled in the University of Missouri – Columbia College of Veterinary Medicine in 1993. During veterinary school Dr. Falch was listed in the Who's Who of students in American Universities and Colleges, named Outstanding Student in Theriogenology, admitted to the Honor Society of Veterinary Medicine, and given the Upjohn Large Animal Proficiency Award. In 1997, he graduated with his Doctorate of Veterinary Medicine.

Dr. Falch's area of special professional interest is large animal general practice. He is a member of the American Association of Bovine Practitioners, American Veterinary Medical Association, and the Missouri Veterinary Medical Association. He is also certified in the National Johne's Disease Program.

Dr. Falch and his wife, Sara, who works part-time at the practice and homeschools their son Lane, have two cats named Sophie and Hallee Ferguson, a horse named Dakota, a ewe lamb named Saddie (they bottle fed her for two months), and 35 chickens. In fact, their young son, Lane, requested chickens and a chicken house for his 5th birthday and now sells farm fresh eggs.

Dr. Falch's interests include gardening, spending time with his family, and anything John Deere.