Veterinary Health Care Services for Companion Animals
Dog and Cat Vaccines
Vaccines are indisputably an essential piece of any preventative medicine program for your pet. They are also an important step in helping protect your family from zoonotic diseases, which are infections that can be passed from animals to humans, such as rabies.

Though vaccines have proved to be an invaluable tool in protecting our pets from fatal diseases, this does not mean some thought shouldn't be given to how they are administered. Fredericktown Animal Hospital tailors its vaccination protocol to the lifestyle of your pet, as well as the diseases he or she is most likely to be exposed to.

During your kitten or puppy's first year of life we administer a series of vaccines in order to develop a strong immune response against disease.

We take these measures so that we can provide your pet with the best protection from disease as well as to reduce the possibility of an adverse reaction to a vaccine.

The core vaccines that we highly recommend all dogs receive are rabies distemper, hepatitis, parvo, and parainfluenza. For all cats we highly recommend rabies, FVRCP and FELV. We also recommend that dogs receive vaccines for lepto and Bordetella.
Lost Pet Identification
Microchip Lost Pet ID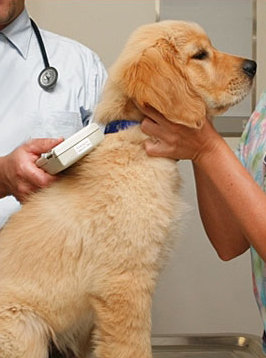 There is nothing more painful than the thought of a lost pet, especially if you are away from home on vacation or visiting friends. How will he or she find her way home?

The fact is that at one time or another in our pets' lives they will find a way out of the house or off their leash. Most of the time, they will find their way home on their own, but too often pets become lost and are picked up by a well-meaning stranger or animal control officer and delivered to a shelter. If this happens to your cat or dog, a collar alone may not be enough, especially if the tag falls off or you are travelling.

Lost pet microchip IDs are a safe, simple and effective way to help prevent your pet from becoming permanently lost. The microchip is about the size of a grain of rice and is implanted beneath your pet's skin, usually between the shoulder blades. The procedure only takes a minute or two to perform.

The microchip is encoded with your pet's vital information, which can be read by scanners at veterinary hospitals and shelters across the country and around the world. Once the information in the chip is read, it can be used to reunite you with your beloved companion.

Fredericktown Animal Hospital uses the HomeAgain microchip system. HomeAgain provides a number of very useful services to pet owners such as their National Pet Recovery Database, Lost Pet Specialists, Rapid Lost Pet Alerts, Lost Pet Medical Insurance, Travel Assistance for Found Pets, and more. Additionally, their microchips can be read by scanners in a number of countries, which makes them ideal for families that travel internationally with their pets.

Veterinary Care for Reptiles, Birds and Pocket Pets
Fredericktown Animal Hospital believes that all pets deserve the opportunity to lead the happiest and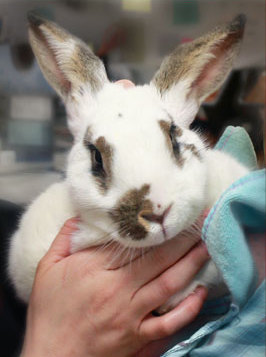 healthiest life possible. This is why we offer our clients with exotic or pocket pets—reptiles, amphibians, birds, and small mammals such as rabbits, Guinea pigs, rats and mice—a range of veterinary wellness services.

Often, these animals' healthcare needs are quite unique and require a veterinary practice with the experience and expertise to provide them with the best and most appropriate care possible. For example, in the wild, many of these animals evolved strategies to conceal illness or injuries as a survival technique. These tendencies continue in domestic exotic and pocket pets, which mean their medical problems often go unnoticed.

This is why we strongly recommend regular physical examinations to check for health problems as well as annual monitoring to check for nutritional and husbandry-related conditions. With regular veterinary medical examinations problems are often diagnosed before they become serious medical conditions.

After acquiring your new exotic or pocket pet, a complete veterinary examination is also strongly recommended. This exam includes a thorough physical examination, nutritional consultation, and disease screening and laboratory testing if necessary.

Veterinary House-Calls
While our hospital is a safe and well-equipped medical facility, we understand that there are certain situations where it is in the best interest of our client and the animal that we make a house call. In particular, large animal services and clients with mobility issues are well served when a veterinarian can come to you with the equipment and experience to provide your animal with needed quality veterinary care.

The veterinarians at Fredericktown Animal Hospital view the ability to visit farms and other livestock holding areas as well as the homes of our clients with companion animals as part of the veterinary experience. For this reason, we are supplied with a range of mobile veterinary tools and equipment to ensure that your pet or large animal receives proper vaccines, wellness and medical care, and diagnostic services necessary to prevent illness or diagnose and treat it when it occurs.

Our Pharmacy and Pet Supply Store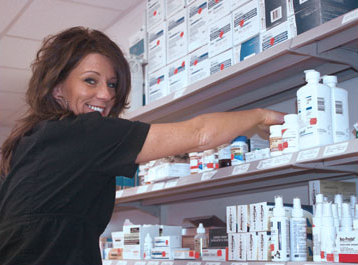 Ensuring our clients have convenient and timely access to competitively priced medications for their pets is an important aspect of our veterinary practice. More than ever before, medications play an important role in helping cure a sick animal, relieve pain after an injury or surgery and manage chronic conditions such as arthritis and diabetes. Without these medications we would see higher mortality/morbidity rates, shorter lifespans, and degraded quality of life in our companion animals.

Fredericktown Animal Hospital maintains a comprehensive pharmacy within our practice and is able to quickly access most any medication that is necessary for the care of your pet. Additionally, because we are the prescribing veterinarian, we are able to ensure there is a direct link between the exam room and our pharmacy. This means your pet will receive the right medication, at the right dose, in the right form as quickly as possible. We will also be able to easily guide you on the medication's use as well as monitor its effectiveness.

Refills are easy too. Simply give us a call and we can either mail them to you or have them ready at your next visit.

Pet Supplies
With so many pet care products on the market, it can be difficult to know which ones are best for your pet. We have taken some of the guess work out by researching the ones we think are best and then including them at very competitive prices on our health products at Fredericktown Animal Hospital.

These include over-the-counter flea and tick control products, a range of name brand pet foods, treats, grooming aids, nutritional supplements, leads and collars, toys, chew bones, dental care products, and more. If you don't see something in our hospital or would like to suggest a product, we may be able to special order a wide range of products for our clients.
End of Life Care for a Beloved Pet
Even the healthiest of pets reach that time where we must find a way to say goodbye to them. We understand that this is an emotional and difficult experience for our clients and is one that we all have been through in our own lives. It is our goal to help ease this time of life for both our patients and clients.

Fredericktown Animal Hospital provides euthanasia services designed to ensure the comfort and dignity of your pet. These services include compassionate euthanasia counseling from your veterinarian to help ensure that not only you are making the right decision, but that you feel you have explored all possibilities for your pet. We will also care for the remains as directed by our client and offer private and dignified onsite crematory services at our partner clinic, The Veterinary Clinic of the Mineral Area.