Justin Howerton, DVM
Growing up in Lebanon, MO, Dr. Justin Howerton was introduced to the veterinary field at an early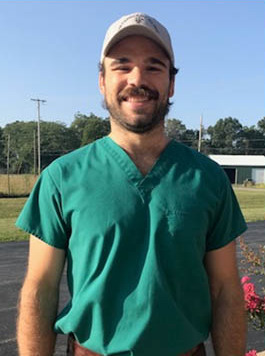 age. Both of his parents are veterinarians, helping to instill their values of compassion towards animals while bringing up their son, Justin. Since childhood and for as long as he can remember he has always wanted to become a veterinarian and follow in the footsteps of his loving parents.

Dr. Howerton attended the University of Missouri, graduating Magna Cum Laude in 2011 with a Bachelor's degree in biochemistry. Upon graduating, Dr. Howerton decided to further his education at the University of Missouri School of Veterinary Medicine, where he received his Doctorate of Veterinary Medicine in 2017.

Dr. Howerton joined Veterinary Clinic of the Mineral Area in May of 2017, becoming an integral part of maintaining a healthy population of animals both large and small.

He enjoys performing mixed animal general practice, and tending to the individualistic needs of each patient. Dr. Howerton is a member of the American Veterinary Medical Association and the Missouri Veterinary Medical Association.

At home, Dr. Howerton enjoys everything outdoors, including sports, hunting, fishing, and hiking. He also finds pleasure spending his free-time with his wife Danielle and daughter Eloise. Danielle is a Family Nurse Practitioner. They share their home with two dogs, both of whom are rescues, Eugene and Ralph.