Benjamin C. Rothlisberger, DVM - Owner
Dr. Benjamin C. Rothlisberger is a General Practitioner of the Veterinary Clinic of the Mineral Area.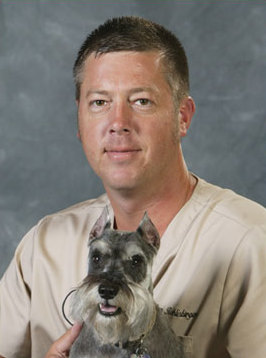 He first joined the practice in 1999.

Originally from Pilot Knob, Missouri, Dr. Rothlisberger says that he was motivated to become a veterinarian after emptying his piggy bank as a child to treat a stray dog with demodectic mange. Now that he is a veterinarian he says he enjoys the feeling of making a difference in our clients' and their pets' lives.

Dr. Rothlisberger attended the University of Missouri – Columbia where he studied animal science. During veterinary school he won the Large Animal Surgery Award and graduated with a Doctorate of Veterinary Medicine in 1998 from the University of Missouri – College of Veterinary Medicine.

Dr. Rothlisberger is a member of the American Veterinary Medical Association and the Missouri Veterinary Medical Association. He is also a member of the Farmington School Board and the Life Church of Farmington.

Dr. Rothlisberger has three children: Rachel, Tanner and Evvie. He provides a home for a number of pets that includes dogs, cats, horses, cows, rabbit, fish, turkeys, chickens, and donkeys

Dr. Rothlisberger's interests include farming, hunting, fishing, restoring old cars and time with his family.