Andre J. Oberle, DVM - Owner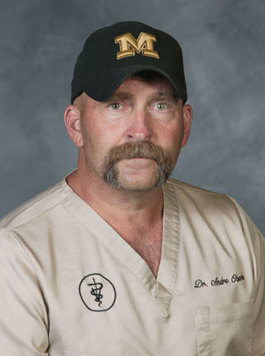 Dr. Andre J. Oberle is a Mixed Animal Practitioner who was among the first veterinarians to join the Veterinary Clinic of the Mineral Area in 1992.

A native of St. Genevieve, Missouri, Dr. Oberle says that he has been interested in animals and their care since he was very young. He adds that raising orphan piglets and raising colored Easter chicks helped cement his desire for a career in animal care. Now that he is a veterinarian, he says he enjoys the variety of patients and situations as well as helping our clients and their animals.

For his undergraduate studies, Dr. Oberle attended the University of Missouri – Columbia where he received the E.M. Funk Memorial Scholarship. In 1980, he graduated with a Bachelor of Science in Agriculture after majoring in Poultry Science. Two years later, he enrolled in the University of Missouri – Columbia College of Veterinary Medicine and earned his Doctorate of Veterinary Medicine in 1986.

Dr. Oberle's veterinarian organization memberships include the American Veterinary Medical Association, Missouri Veterinary Medical Association, and the Southeast Missouri Veterinary Medical Association. He is also a member of the Knights of Columbus, National Rifle Association, and the Missouri Farm Bureau.

Dr. Oberle is married to Krista who worked as a registered veterinary technician until the birth of their third child. They also care for a number of animals, which includes dogs, cats, mice, rats, hamster, rabbits, donkeys, horses, cattle and a variety of poultry.

His interests include horseback riding, farming, shooting and some hunting.